Show News
Mietta - daughter of Am.Ch.,Ch.Legacy;s Rockin Robin (US). is just starting out in the show ring,
A pretty puppy, with a great coat, movement, lovely head, good front and turn of stifle. Looking forward to having fun with her in the coming months.
News - Mietta, Bitch challenge at Ovens Valley Ch. Show 31/3/12. Judge Mrs Judy Horton. Puppy in Group 31/3/12 and Puppy in Group- 1/4/12 (Judge Prof B. Corbitt ) at Myrtleford.Vic. Bitch challenge at VCA Amenities show 6/4/12, (Mr. G. Guat) still in PUPPY CLASS. Looking good!!!!!!!!!!
Gained her Ch. Title at Echuca Kennel Club - 10 Nov 2012 Mr. A.Beattie (WA)
SHOW NEWS ************************************
Am.Ch.Au.Ch.Legacy's Rockin Robin (USA) "Robbie" now has12 Champions to his name in Australia and New Zealand
They are ...................
Au.Ch. Forestal Rythm of the Night, Bred by Pam Haigh/owned by Pam Haigh/Robyn Rogers Vic/SA
Au.Ch. Loughrobn Conquest March. Bred/owned by Robyn Myers S.A.
Au. Ch. Forestal Shadows in the Night. Bred/owned by Pam Haigh Vic.
N.Z. Ch. Niedleich Robins Legacy to Kajen (imp Aust) Bred by Marie.Edwards/Owned by Kaye Lord (NZ)
Au.Ch. Janila Blue Moon. Bred and owned by Lisa Davis. Vic.
Au.Ch. Niedleich Dancing Queen Bred and owned by Marie Edwards Vic.
N.Z. Ch. Trustin Bob;s your Uncle. Bred and owned by Rowena Stanton. N.Z.,
AU.Ch N.Z.Ch. Trustin High Five. Bred and owned by Rowena Stanton N.Z.
Au. Ch. Trustin Spryngetime. Bred by Rowena Stanton owned by Paula Bowers. Q;land
Au. Ch. Billaz Starz in My Eyes. Bred and owned by Jim and Claire Uren. Vic
Au Ch. Niedleich Goodnite Irene. Bred/co owned by Marie Edwards/ Janet Goodwin Vic/NSW
CH. Nellabah Cashed up Legacy's Bred/owned by Janet Goodwin NSW
CONGRATULATIONS TO EVERYONE!!!!!!!!!!!!!!!!!!!!!!!!!!!!
Pics of all on the Imports Progeny page......
NEW KID ON THE BLOCK PIPPA :-
LATEST NEWS - Niedleich Black Magic, daughter of Ch.Niedleich Carbon Copy, won BABY PUPPY IN SHOW at the Schnauzer Club of Vic's Open Show, on 5/8/12. "Pippa" is off to a great start.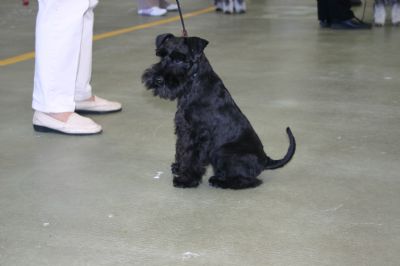 Update Pippa won Baby Puppy in Group, at Maryborough Kennel Club 16/9/12 Judge Mr. L. Bleakley (Vic)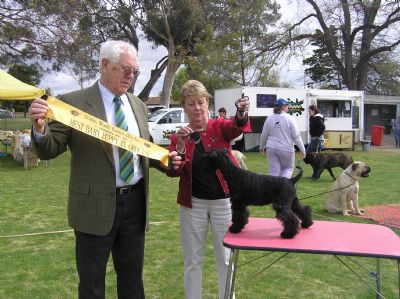 k
Schnauzer Club of Vic Speciality Championship Show, was held on 22/9/12. "Pippa" won BABY PUPPY IN SHOW , a great win, under BREED SPECIALIST Mrs. Margaretta Skogsberg (Sweden)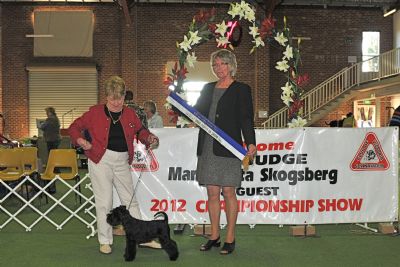 Sapphire Coast Kennel Club February 2013. Pippa was awarded under Mr. Miles Gunter NSW, BEST EXHIBIT IN GROUP and PUPPY IN SHOW. A great achievement for a young bitch in stiff competition.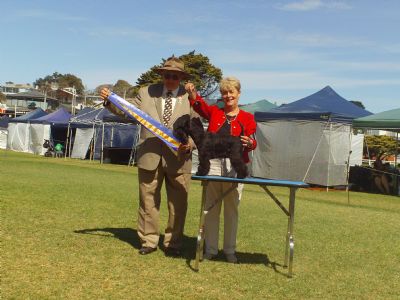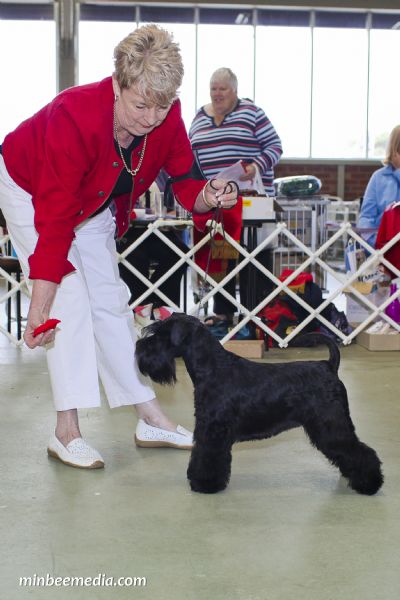 Introducing Australian Champion Niedleich Black Magic. "PIPPA" gained her Aust Title at just 12months and 2 weeks. We're very proud of her. She's such a delight to live with, an 'over the top' happy puppy.
SHOW NEWS
Niedleich Queen of the Dance (Demi) daughter of ( Mietta) Ch Niedleich Dancing Queen, and Sire Am.Gr.Ch.Tomars Captain Morgan, was awarded BEST IN SHOW at the Schnauzer Club of S.A.Speciality on 12th September 2015, under bred specialist Mrs. Carol Daniels (UK). Just 12 months, four days old, this win gave her, her Au Ch. Title.​To say that were thrilled, is an understatement. The last Mini to win Best in Show, at the SCSA, was her grandfather in 2010, Am.Au.Ch.Legacy,sRockin Robin. She's certainly following in his tradition.
Then under Breed Specialist Mr. John Constantine (USA) just a week later at the Schnauzer Club of Vic Speciality, she was awarded Bitch Challenge and JUNIOR IN SHOW, under strong competition. ​
Whilst Demie has had some lovely wins in the last few months, these ones topped it off.
Looking forward to the future with her.
Now we look forward to the career of Niedleich Romeo of Verona. Romy is a stunning black male, bred from the magnificent Italian lines of Steadlyn ROmy's dad is Ch Steadlyn Zoomin In Aus Ch S 'pore Ch.
Contact Details
Marie Edwards
Echuca, VIC, Australia
Phone : 0429 006 409 or 54 822007
Email :
[email protected]