Import
Sub-links for this page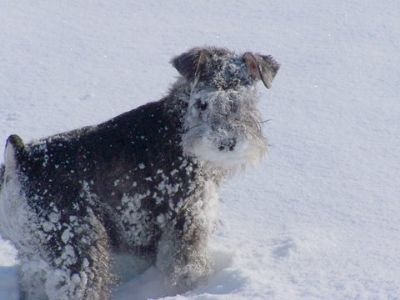 AMERICAN CHAMPION. AUSTRALIAN CHAMPION LEGACY'S ROCKIN ROBIN (IMP USA)
ROBBIE - BRED BY PATTY AND MACK LEDGERWOOD - WASHINGTON US
Robbie arrived in Australia in August 2009, after an impressive career in the US. He has made his mark here, gaining his Australian title in a matter of weeks. He won Best in Show- Schnauzer club of S.A.in 2010,.Runner up Best of breed Melbourne Royal 2010, going onto win BEST IN SHOW (All breeds) Numurkah October 2010. BEST OF BREED Adelaide Royal 2011, DOG CHALLENGE Schnauzer Club of vic 2011. Robbie has won many Group and In group awards, and is a pleasure to live with.
His greatest achievements are in the progeny he is producing, so far Eleven Champions get -
Ch. Forestal Shadows in the Night P.Haigh - Ch Loughrobn Conquest March (R.Myers) D/C Schnauzer Club of SA Speciality 2011 from Minor Puppy Class ,
Ch. Forestal Rythmn of the Night R.Rogers/P.Haigh,
Ch. Bilazz Starz in my Eyes ( J/C Uren) -
Ch. Janila Blue Moon (L.Davis) , DC Melbourne Royal 2011, from Minor Puppy Class.
CH.Loughrobn Victory March (R.Myers) -
NZ CH.Trustin Spryngetime (imp NZ) (P. Bowers) -
CH.Niedleich Dancing Queen (M.Edwards).
NZ.Ch. Trustin Hi Five. R., Stanton. N.Z.Ch. Trustin Bob's your Uncle. R. Stanton.
NZ Ch Niedleich Robins Legacy to Kajen. K. Lord.

In New Zealand there are two new Robin Champions, proving to be very exciting and catching the Judges eye. NZ.CHNiedleich Robins Legacy to Kajen,(K.Lord) lst baby sweepstakes (53 entries) Baby in group and show, and Puppy in Show Judges Ms F.Crooks/Ms.C.Camac (vic), and Ch.Trustin Bobs your Uncle (R.Stanton), at 1st show, Baby in group and winner Baby sweepstakes - Judge S.Rickard (vic) -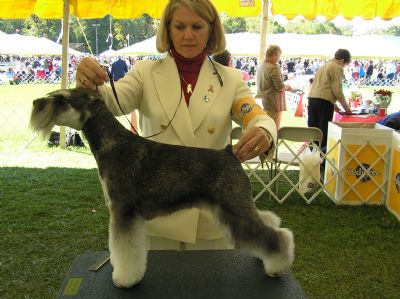 Robbie has consistently bred offspring who have gone onto become Australian Champions.
Robbie has a clear eye certificate as of 16/1/2014 and is also DNA tested clear for Myotonia Congenita.
Contact Details
Marie Edwards
Echuca, VIC, Australia
Phone : 0429 006 409 or 54 822007
Email :
[email protected]