Absent Friends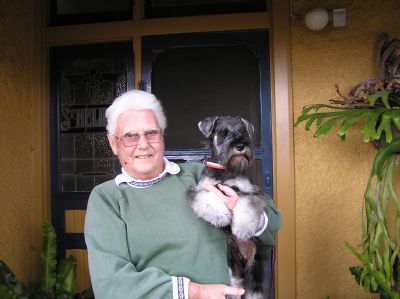 This website would not be complete, without a page dedicated to special/absent friends. My No 1 very special friend Lorraine S. Donovan, (Rainie) pictured here with her girl Niedleich Ruby Shoes. Lorraine and I met at the corner shop, I was walking one of my minis, and she said to me, I've got a Miniature Schnauzer too! (We lived five doors from each other)
Well that started the most wonderful friendship, that lasted for l8 years, until she passed away suddenly in October 2005.
Lorraine had bought her boy Oliver as a pet,but I could see the potential in him, and offered along with Emma Greenway, to strip him and get him in the ring. Well!!!! Oliver's first show was at Echuca A & P, and when he won Junior in Group, Lorraine held that huge ribbon in her hands, and from then on she was hooked into showing.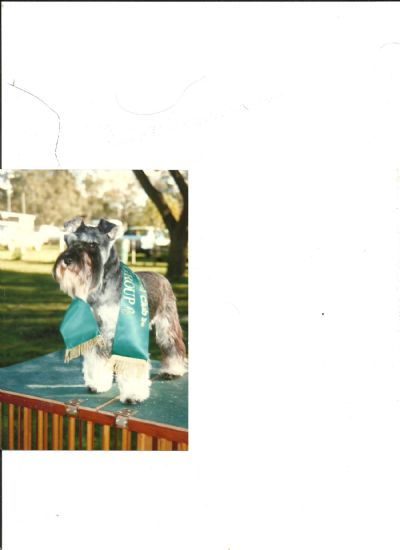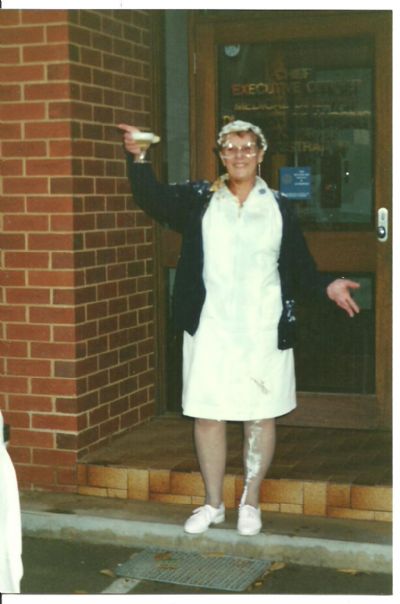 Lorraine was a dedicated nurse, of over 25 years at Echuca Hospital. She used to work night duty, which meant she would finish at 7am, pick up Oliver and drive sometimes hours to get to a show. Oliver became a champion, and the quest was on for another showdog. Lorraine always wanted the best, so she bought a young puppy a son of Au.Ch.Donnerkeil Ice Warrior.She named him Lucas. Lorraine retired from nursing, and put all her energies into showing Lucas.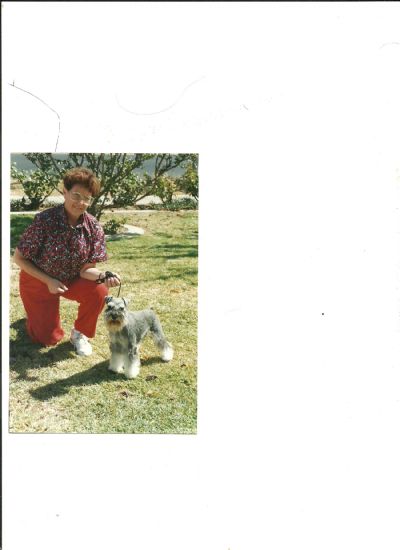 He was a handful, very outgoing, determined but a great puppy, who also became an Australian Champion. Lorraine was an extremely dedicated member of the Schnauzer Club of Victoria, and the Echuca Kennel Club. She spent many many hours outside Safeway, selling raffle tickets for both clubs, over many years. Lorraine and I would drive from Echuca to Melbourne to attend General Meetings on a bi monthly basis, and then drive back that night.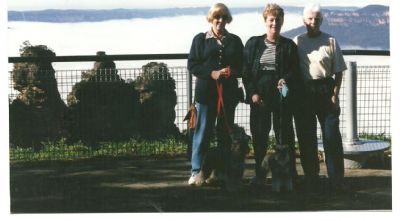 We both went to Sydney Royal one year, with Diane Liley. We had to tow a trailer, as Lorraine had so much gear, she being a nurse, was ready for any emergency,LOL however a great time was had by all, and those memories will last forever!!~ When the taildocking ban was being mooted, Lorraine and I attended night meetings at the showgrounds,and also the protest march against the ban, and my fondest memory is of Lorraine, on the steps of Parliament House, waving her banner,at all the motorists who tooted support, even though she was under stress with her illness. Lorraine was the most giving person that I have ever known, did not tolerate "fools" gladly, was an astute judge of character, a giver not a taker,with a lovely dry sense of humour, and her favourite expression was "he's as useless as an ashtray on a motorbike". I miss my special friend 'every day' but can look back on the great times we had together, an experience I would not have missed for the world. VALE Lorraine Sylvia Donovan!!!!!!!!!!!!!!!!!!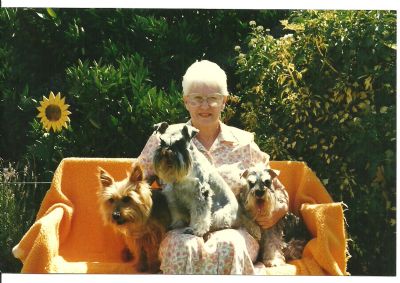 Contact Details
Marie Edwards
Echuca, VIC, Australia
Phone : 0429 006 409 or 54 822007
Email :
[email protected]